Judy O'Mara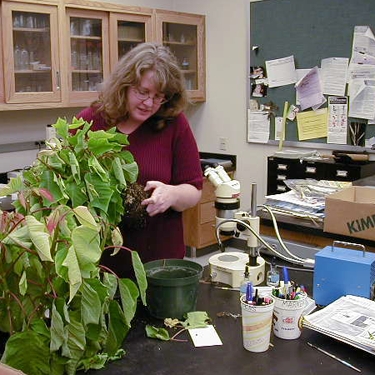 Instructor/Diagnostician
1712 Claflin Rd
4601 Throckmorton Ctr.
Kansas State University
Manhattan, KS 66506
Phone: 785-532-1385
Fax: 785-532-5692
jomara@ksu.edu
View My Curriculum Vitae
Education
B.S. Agriculture Biology, New Mexico State University, 1984
M.S. Plant Pathology/Extension Education, Horticulture, New Mexico State University, 1987
Teaching
Crop Diseases [PLPTH 585]
Landscape Diseases [PLPTH 590]
Introduction to Plant Resistance to Pests [PLPTH 732]
Research
Plant disease diagnostician. Director of the Kansas State University Plant Disease Diagnostic Laboratory.
Publications
Kennelly, M.M., O'Mara, J., Pierzynski, J., Hilbert, W. and Appel, J. 2007. Hosta Virus X detected in Kansas. Online. Plant Health Progress. doi:10.1094/PHP-2007-0926-01-BR.