Timothy Todd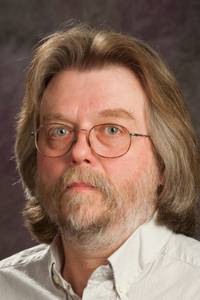 Instructor
Kansas State University
4746 Throckmorton PSC
1712 Claflin Road
Manhattan, KS 66506
Ph: +1-785-532-1350
Fx: +1-785-532-5692
Education
M.S. Plant Pathology, Oklahoma State University, Stillwater, 1982
B.S. Biology, Northeastern State University, Tahlequah, 1980
Publications
Blunt, T.D., W.R. Jacobi, J.A. Appel, N. Tisserat and T.C. Todd. 2014. First report of pine wilt in Colorado, USA. Plant Health Progress doi:10.1094/PHP-BR-14-0010.
Brzostowski, L.F., W.T. Schapaugh, T.C. Todd, C.R. Little, P.A. Rzodkiewica. 2014. Effect of host resistance to Fusarium virguliforme and Heterodera glycines on sudden death syndrome disease severity and soybean seed yield. Plant Health Progress doi:10.1094/PHP-RS-13-0100.
Todd, T.C., J.A. Appel, J. Vogel and N.A. Tisserat. 2014. Survey of plant-parasitic nematodes in Kansas and eastern Colorado wheat fields. Plant Health Progress doi:10.1094/PHP-RS-13-0125.
Coolon, J.D., K.L. Jones, T.C. Todd, J.M. Blair and M.A. Herman. 2013. Long-term-nitrogen amendment alters the diversity and assemblage of soil bacterial communities in tallgrass prairie. PLPS One 8(6): e67884. doi:10.1371/journal.pone.0067884.
Darby, B.J., T.C. Todd and M.A. Herman. 2013. High-throughput amplicon sequencing of rRNA genes requires a copy number correction to accurately reflect the effects of management practices on soil nematode community structure. Molecular Ecology. Online. doi: 10.111/med.12480.
Retta, A., L.E. Wagner, J. Tatarko and T.C. Todd. 2013. Evaluation of bulk density and vegetation as affected by military traffic at Fort Riley, Kansas. Transactions of the American Society of Agricultural and Biological Engineers 56:653-665.
Brady, C.R., Li, J., Todd, T.C., Oakley, T.R. and Trick, H.N. 2012. Compatibility of foliar insecticides and Heterodera glycines bioassays. Plant Health Progress April 9, 2012. (doi:10.1094/PHP-2012-0409-01-BR).
Wheeler, D., B.J. Darby, T.C. Todd and M.A. Herman. 2012. Several grassland soil nematode species are insensitive to RNA-mediated interference. Journal of Nematology 44(1):91-100.
Li, J., Todd, T.C. and Trick, H.N. 2011. Biotechnological application of functional genomics towards plant-parasitic nematode control. Plant Biotechnology Journal 9:936-944.
Tylka, G.L., T. Todd, T.C. Niblack, A.E. MacGuidwin and T. Jackson. 2011. Sampling for plant-parasitic nematodes in corn strip trials comparing nematode management products. Online. Plant Health Progress doi:10.1094/PHP-2011-0901-01-DG.
Li, J., T.C. Todd and H.N. Trick. 2010. Rapid in planta evaluation of root expressed transgenes in chimeric plants. Plant Cell Reports 29:113-123
Li, J., Todd, T.C., Oakley, T.R., Lee, J and Trick, H.N. 2010. Host derived suppression of nematode reproductive and fitness genes decreases fecundity of Heterodera glycines Ichinohe. Planta 232:775-785.
Althoff, P.S., S.J. Thien and T.C. Todd 2010. Primary and residual effects of Abrams tank traffic on prairie soil properties. Soil Science Society of America Journal. 74:2151-2161.
Saleh, A.A., H.U. Ahmed, T.C. Todd, S.E. Travers, K.A. Zeller, J.F. Leslie and K.A. Garrett. 2010. Relatedness of Macrophomina phaseolina isolates from tallgrass prairie, maize, soybean and sorghum. Molecular Ecology 19:79-91.
Schapaugh JR., W.T., T.C. Todd, J. Reese, J. Diaz-Montano, J. Meng and C.M. Smith. 2010. Registration of K1639-2 soybean germplasm resistant to soybean cyst nematode and soybean aphid. Journal of Plant Registrations 4:67-69.
Althoff, P.S., T.C. Todd, S.J. Thien and M.A. Callaham, Jr. 2009. Response of soil microbial and invertebrate communities to tracked vehicle disturbance in tallgrass prairie. Applied Soil Ecology 43:122-130.
Althoff, P.S., M.B. Kirkham, T.C. Todd, S.J. Thien and P.S. Gibson. 2009. Influence of Abrams M1A1 main battle tank disturbance on tallgrass prairie plant community structure. Rangeland Ecology and Management 62:480-490.
Coolon, J.D., K.L. Jones, T.C. Todd, B.C. Carr and M.A. Herman. 2009. Caenorhabditis elegans Genomic Response to Soil Bacteria Predicts Environment-Specific Genetic Effects on Life History traits. PLoS Genet 5(6): e1000503. doi:10.1371/journal.pgen.1000503.
Steeves, R.M., Todd, T.C. and Trick, H.N. 2006. Transgenic soybeans expressing siRNAs specific to a major sperm protein gene suppress Heterodera glycines reproduction. Functional Plant Biology 33:991-999.
Settle, D.M., T.C. Todd, J.D. Fry and N.A. Tisserat. 2005. Influence of soil temperature on host suitability of eight turfgrass species to the lance nematode (Hoplolaimus galeatus). Int. Turf. Soc. Res. J. 10:265-272.
Ornatowski, W., Jayaraj, J., Schapaugh, W.T., Muthukrishnan, S., Todd, T.C., Trick, H.N. 2004. Introduction and constitutive expression of a tobacco hornworm (Manduca sexta) chitinase gene in soybean. In Vitro Cell. Dev. Biol.-Plant 40(3): 260-265.
Trick, H.N., Steeves, R.M., Todd, T.C., Schapaugh, W.T. 2003. Novel biotech approaches to enhance disease and pest resistance in crop plants. Proceedings of Biotechnology Days, September 22-26, Ankara, Turkey.
Todd, T.C., Long, J.H., Oakley, T.R. 2003. Density-dependent multiplication and survival rates in Heterodera glycines. Journal of Nematology 35:98-103.
Kelley, K.W., Long, J.H., Todd, T.C. 2003. Long-term crop rotations affect soybean yield, seed weight and soil chemical properties. Field Crops Research 83:41-50.
Duncan, K., Jennings, E., Buck, P., Wells, H., Kalhatkar, R., Sublette, K., Potter, W.T., Todd, T. 2003. Multi-species ecotoxicity of petroleum-contaminated soil. International Journal of Soil and Sediment Contamination 12:181-206.
Callaham, M.A., Blair, J.M., Todd, T.C., Kitchen, D.J., Whiles, M.R. 2003. Macroinvertebrates in North American tallgrass prairie soils: Effect of fire, mowing and fertilization on density and biomass. Soil Biology and Biochemistry 35:1079-1093.
Wang, J., Donald, P.A., Niblack, T.L., Bird, G.W., Faghihi, J., Ferris, J.M., Grau, C., Jardine, D.J., Lipps, P.E., MacGuidwin, A.E., Melakerberhan, H., Noel, G.R., Pierson, P., Riedell, R.M., Sellers, P.R., Stienstra, W.C., Todd, T.C., Tylka, G.L., Wheeler, T.A. and Wysong, D.S. 2000. Soybean cyst nematode reproduction in the north central United States. Plant Disease 84:77-82.
Davis, M.A., Jardine, D.J. and Todd, T.C. 1994. Selected pre-emergent herbicides and soil pH on seedling blight of grain sorghum. J. Prod. Agric. 7:269-276.
Research
Strategies for durable resistance in soybean to Heterodera glycines; management of nematode diseases in corn and wheat; population and community ecology of soil nematodes; soil biodiversity; sentinel taxa of ecosystem disturbance.
Staff & Students
Tom Oakley, Research Assistant
Teaching
PLPTH 730: Plant Nematology
PLPTH 755: Plant Resistance to Diseases